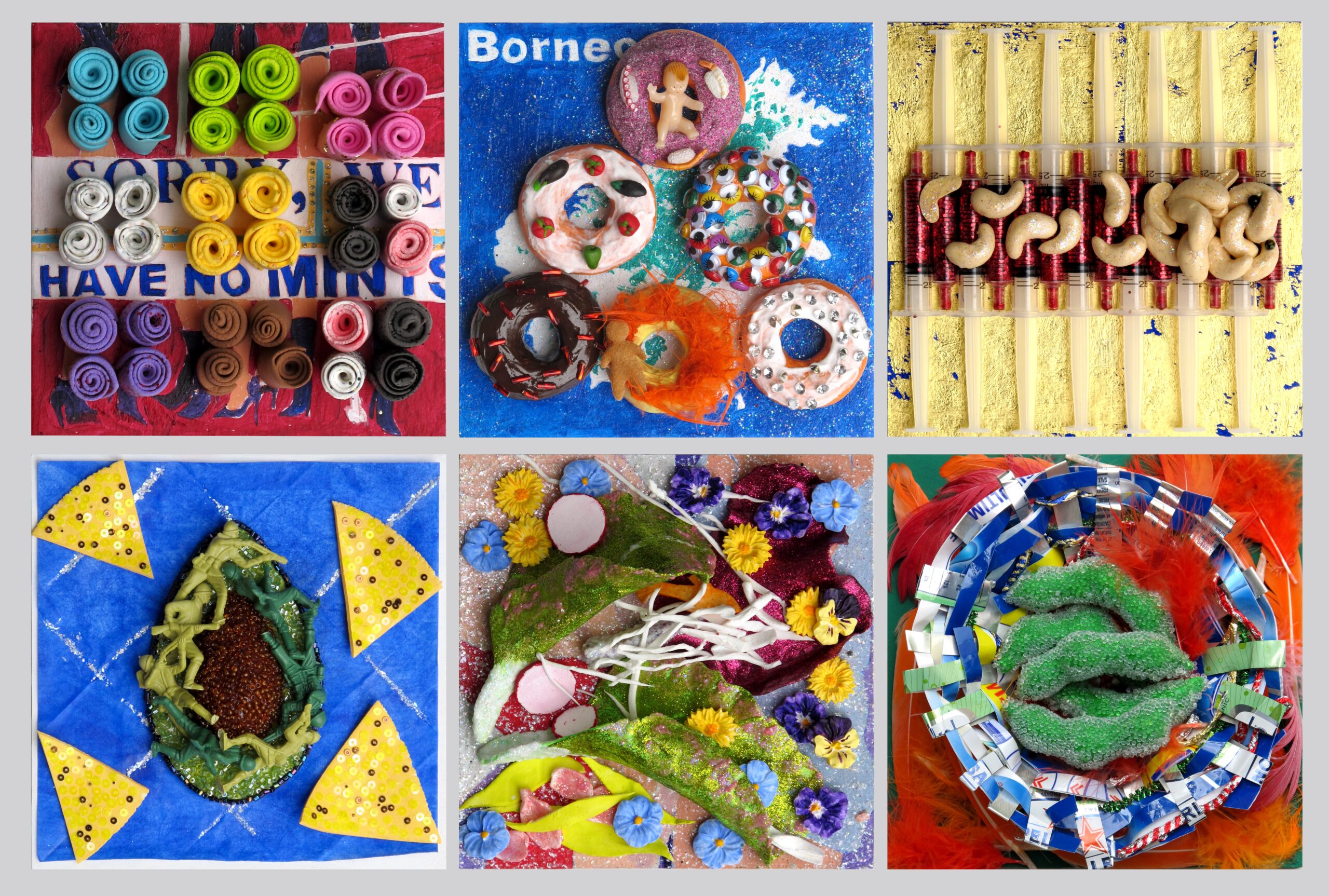 Sept. 24, 2019 – Nov.1,2019
Opening Reception Sept. 24, 2019; 5:30–8:00 PM
Foodie Fever and its artworks address the variety of issues germane to the food craze phenomenon seen in the millennial generation's sharing of foodie photographs on social media. Having the greatest buying power millennial foodies search for the rarest, most authentic, custom-made, unusual cuisines sometimes laced with Cannabidiol (CBD) which has become another trend. Millennial foodies seek trendy diets most popular of which are the low-carb or gluten-free eschewing inhumane farming methods while seeking alternatives. This sector also appreciates individuality, and mash-ups, fusions or foods created especially for their tastes like poke bowls and other exotic tastes. Regardless of what they choose Millennials are mindful of their food-sources and careful with their health, although sometimes misguided as with some of the trendy dieting methods.
David C. Terry's McTriptych addresses issues of wealth and access to a healthful diet, and how that is in fact, a large part of racism and oppression in general. There are the moments when foodies become mesmerized by the omnipresence of fast food in realtime. A mock-monument to this generational problem is Robert Zott's Fast Food featuring family plot grave stones with the titles Burger, Fries and Soda. Chris Bors' Hot Dogs goes right for that carnival aspect of food fanaticism and best example of how extreme behavior is more popular than ever, especially among the Millennials who like to theme-party.Judy Haberl takes aim at the 'links' between semi-precious stones and jewelry, and the standard meat sausage. In an age when the mixing of metaphors can be taken to the limit in a variety of ways, Haberl clarifies our vision and understanding that food is a commodity. Todd Bartel's Designer Agriculture No. 1 (Dr. Frankentree) and Kirsten Stolle's Feed bring in the darker side of foods that are genetically designed and modified for purposes well beyond the scope of nature. Junghoo Hwang's photographs speak to the same issue for such hybrids as he depicts, can only exist if genetically designed and engineered. Sungho Choi's light box installation Menu is about a different type of food hybrid; one that is an ethnic mix of Asian and Western cuisines. Korean kimchi is combined with various foods from around the world to produce fusion foods as well as to address issues of cultural hybridity. Intae Kim's sculpture of a cabbage represents the most popular Korean food, but the way he has shaped it like a comfortable easy chair, we must read it as a comfort inducing food more than an ethnic symbol. Maria Karametou's weirdly shaped potatoes and eggplants address the idea of man-made perfection. By so doing, Karametou comments on the artificial perfection that society has learned to find appealing rather than looking deeper or seeking out ugly yet healthful alternatives. Nicholas Moore's Lunch Boxes series focuses on those rare foods and trends that Foodies seek in their search for individuality from food bowls, to curcumin lattes to sushi bowls, and gourmet donuts to smoothies and cauliflower rice. Mia Brownell's two paintings Passing Fruit and Pear and Grape offer a delicate dance of growth and fruition as each tangled trellis of grapes cluster and support displaced pears and plums. Beth Mobilia offers a new take on naughtiness by obscuring the most flavorful part of an iconic dessert. The point here is not only to address the shortcomings of sugar, but to bring to light the awkwardness many feel when indulging in a high calorie, albeit tasty treat. Marianne Strapatsakis's video The Beautiful Fish, 2019 is concerned with showing the delectable nature of today's foodie fever. Gastronomic tourism has been on the rise as social experience seen in consumer themed experiences and developing communities around food. Thalia Gatzouli produces works with light as if writing in space that concern biological issues. In fact, her work Protein Provocative, 2019 is comprised of textual statements in neon light. Her interest lies in the connections between science and food and she examines the dual sided effects of protein that can both nourish and sicken. The photographer Chronis Spanos addresses formal and ideological issues such as light and texture within the theme of food. His approach to his subject is architectural in that, he essentializes form abstracting it to its simplest shape using light and shade.
Thumb Image: Still Life with Passion Fruit, Mia Brownell, 2008, oil on canvas.
Banner Image: Eat the World, Nick Moore.
Image courtesy of Mia Brownell
Curated by Dr. Thalia Vrachopoulos and D. Dominick Lombardi. Sept. 24, 2019 – Nov.1,2019 Opening Reception Sept. 24, 2019; 5:30–8:00 PM Foodie Fever and its artworks address the variety of issues germane to the food craze phenomenon seen in the millennial generation's sharing of foodie photographs on social media. Having the greatest buying power millennial Read More »