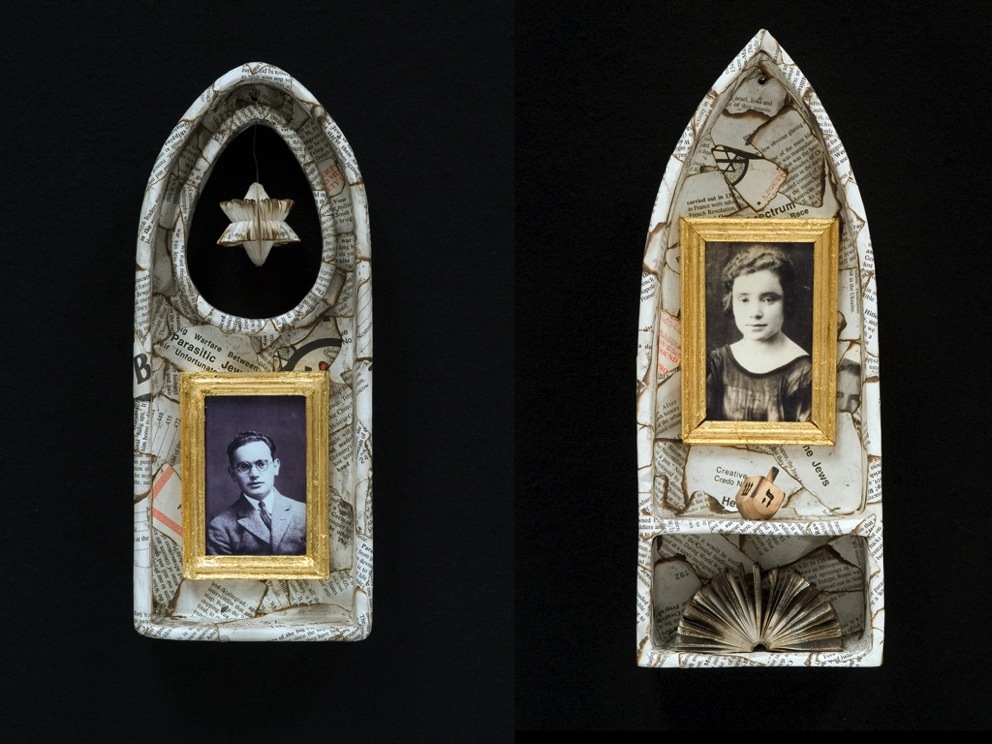 On view from February 24, 2016-April 8, 2016
Speaking Volumes: Transforming Hate showcases the diverse work of 39 artists who have transformed thousands of anti-Semitic and racist books into an uplifting and dynamic exhibition. The exhibition is visually powerful, thought-provoking, sometimes humorous, always challenging, and ultimately deeply moving. The artist participants are: Arianna Boussard-Reifel, John Buck, Kristin Casaletto, Nick Cave, Enrique Chagoya, Curtis Lei, Jack Daws, Jane Wagonner Deschner, Stephen Glueckert, Jean Grosser, Miguel Guillen, Charles Gute, Valerie Hellerman, Tim Holmes, Marilyn Humphries, Lisa Jarrett, David Kamm, Maria Karametou, Lucinda Luvaas, Billie Lynn, Robbie McClaran, Marc Morris and Shelly Murn, Sarah Ryan, Richard Notkin, Matt O'Connor, Ellen Ornitz, Neal Amrose Smith, Faith Ringgold, Jim Riswold, Barbara Romain, Scott Schuldt, Clarissa Sligh, Jaune Quick-to-Smith, Tim Speyer, Sara Steele, Cathy Weber, Valetta.
The story of Speaking Volumes began in 2003 when the Montana Human Rights Network in Helena, Montana, acquired more than 4,000 copies of white supremacist books from a defecting leader of one of the most virulent hate groups in the nation. The Human Rights Network, through a partnership with the Holter Museum of Art in Helena, implemented its vision of transforming the books into works of art with a positive message.
Katie Knight, then Curator of Education at the Holter Museum, used her twenty-five years of experience in social justice art and education to guide the community partnership as they developed Speaking Volumes: Transforming Hate. Knight continues to collaborate with and to provide logistical and programming support to all museums and galleries which host the exhibition. At The Shiva Gallery venue Knight is working with Dr. Thalia Vrachopoulos whose curatorial and personal interests in human rights and justice, resonate with those of Knight's.
After Speaking Volumes: Transforming Hate opened in January 2008 at the Holter Museum of Art, it toured for nearly three years to eleven Montana venues with accompanying educational programs and curriculum. The Montana Human Rights Network sponsors and directs the current national tour, which has been successfully hosted in diverse venues ranging from the Jewish Community Center in La Jolla, California to the Art and History Center of Lewis-Clark College in Lewiston, Idaho. In January 2015 the exhibit opened at Living Arts in Tulsa, Oklahoma, where it was a central feature of a larger community arts and educational program presented by many Tulsa organizations.
Rarely does an exhibition stimulate so much conversation and creative response among children, youth, and adults. Speaking Volumes: Transforming Hate encourages audiences to explore creative strategies for transforming hate. Visitors often participate in dialogue to share their own stories and listen to others, deepening empathy for those who are perceived as "different," and encouraging respect for social justice.
Curated by Thalia Vrachopoulos and Katie Knight
On view from February 24, 2016-April 8, 2016 Speaking Volumes: Transforming Hate showcases the diverse work of 39 artists who have transformed thousands of anti-Semitic and racist books into an uplifting and dynamic exhibition. The exhibition is visually powerful, thought-provoking, sometimes humorous, always challenging, and ultimately deeply moving. The artist participants are: Arianna Boussard-Reifel, John Buck, Read More »