Murder She Said – Curated by Thalia Vrachopoulos and Richard Vine
Anya & Andrew Shiva Gallery at John Jay College of Criminal Justice
November 15, 2016 – January 13, 2017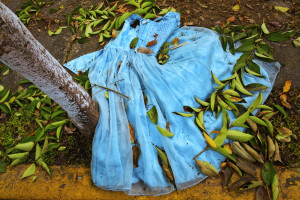 Am I looking at an image of a dress on the ground covered with leaves? Is it from a lover's tryst, or is something more sinister going on, and why would I think that?
On the whole, media and society have turned darker and more aggressive as we've moved into the 21st century. Being besieged with nominally factual content has constrained us all to a different type of viewing, more of a true-crime voyeurism than ever — inundated with reality or its simulacrum on television and computer screens on a daily basis, we wonder how we ended up here. When did we start needing to see unedited live-steamed reality of life's most horrific moments? The true-crime program America's Most Wanted premiered in 1988. I remember it well because I was studying video and art history for my undergraduate degree at Tufts — it was hard to ignore the fact that a social boundary had been crossed when watching videos of real criminals being hunted down for horrible crimes, as well as listening to their victims and families reliving events for an audience hungry for only its most salacious details.
Murder She Said is an exhibition by Thalia Vrachopoulos, Ph.D., who has curated hundreds of national and international exhibitions and scholarly catalogues, and Richard Vine, Ph.D., current managing editor of Art in America, and prolific contemporary art critic and author. Vrachopoulos and Vine have curated an exhibition for where we are now, confronting these issues by compelling viewers to pause and reflect on what they are actually seeing. The exhibition shows, through artistic example in a range of artist's works and mediums, the mutative re-conditioning we have been exposed to through the devolution of public media over the past thirty years.
Yolanda Andrade was very interesting with her inkjet print The Blue Dress (2011), showing a prom dress outdoors on the ground in the leaves. I have to admit my conditioned self thought this girl had been attacked when I realized, almost in the same moment, that years ago I would have made a far more romantic assumption. I began to wonder just how cynical I'd become. This brings me to the first artwork we see upon entering the gallery — a large mixed-media piece by John Giordano titled Vengeance (2016), depicting in serial collage a high-fashion model holding a horse's bit in her mouth while bearing her chest. This begs the question — is this Sexy? Violent? Mainstream? Could it be just an example of garden-variety misogyny? A less commercial and more visceral example is Angela Strassheim's archival pigment print of Underwear Shoved Down Esophagus (1997-2016), where we see a cross-section of its very title reminiscent of something torn from the pages of Gray's Anatomy — again, asking us what do we need to see?
Another standout was Corinne Dotz, who has literally constructed discrete realities by creating and then photographing different miniature murder scenes, as in Kitchen (room from afar) (2004), where what appears to be a propane-gassed suicide victim is lying on the kitchen floor near a bunt cake left cooling on the oven's open door. This is probably one of the most moving works in the show for me, because it speaks to the contemporary fabrication of reality that everyone seems so readily predisposed, even eager, to be shocked and repulsed by.
Considering the state of our society in a post-9/11 world — where we witnessed the senseless deaths of over three-thousand people going about their lives on a beautiful September morning, and where death and mayhem seem to roll in an endless global live-broadcast loop of terrorism's gory triumphs — what has this done to our sensibilities, and who have we become as a result? It makes this exhibition thoughtful and chilling, as well as addressing a subject we all must come to terms with in our daily lives.
– Elizabeth Stevens
Ms. Stevens has been in Art and Antiques for 30 years, from representing her family's auction house in Cincinnati to Import Director at Hedley's New York in the early '90s to Salander O' Reilly Galleries, organizing art fairs and traveling exhibitions for more than 12 years. She is the former director of Yellow Bird Gallery in Newburgh, NY as well as the former Exhibitions Curator for the Thomas Cole House. She is now the owner of Elizabeth Stevens & Co. with offices in New York, New Jersey, and soon Florida.
Review by Culture Catch
Link to original article:http://culturecatch.com/art/murder-she-said