Link: https://www.cbsnews.com/news/art-from-behind-the-walls-of-guantanamo/
CBS NEWS //January 21, 2018, 9:29 AM
On Display in New York: art from "Beyond The Walls" of a prison — which in the eyes of critics, makes it art that's beyond the pale. Tony Dokoupil takes a look at the art … and the controversy:
If you didn't know better, "Ode to the Sea" at New York's John Jay College of Criminal Justice might look like a rather ordinary art exhibit. Even co-curator Erin Thompson will admit, the Metropolitan Museum it is not.
The gallery is a hallway. "A glorified hallway," she laughed, "that has 36 pieces by eight individuals."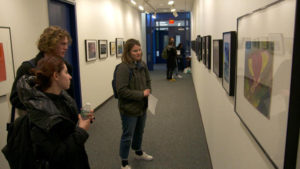 An exhibition of art by Guantanamo detainees at John Jay College of Criminal Justice in New York City. CBS NEWS
But take a closer look at the signatures, and you'll see these aren't ordinary artists.
"242" is the prisoner number for Khalid Qasim, a suspected fighter for al Qaeda, held at the military prison in Guantanamo Bay for more than 15 years, and counting.
Dokoupil asked, "At what point did you realize that this could be something significant?"
"It was really when I saw the art," Thompson replied. "Because I found it so beautiful and so confusing. Why are people in these circumstances painting flowers and beaches and these very calm scenes?"
All 36 pieces on display here, including landscapes, tableaux and a few sculptures, were made by detainees inside Guantanamo.
One piece of art, a model of a ship, was made by a man who is still detained at Guantanamo.
"He makes it essentially out of trash — bits of cardboard that the guards give to him," Thompson said. "The sails are T-shirt pieces, stiffened with glue."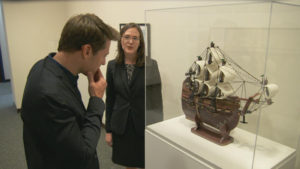 Correspondent Ton Dokoupil, with co-curator Erin Thompson, examines Moath al-Alwi's model ship, "Giant." CBS NEWS
Al and Maureen Santora lost their son, Christopher, a firefighter, in the attacks on the World Trade Center on 9/11. They believe this art has no place being shown here.
"To have a public university sponsor this, I think is absolutely outrageous and reprehensible," said Maureen. "We are now giving them a forum which they should not have. They should have no voice, because they snuffed out the voices of almost 3,000 people on September 11."
But whatever your opinion on the decision to display this art, the defining image of the exhibit may surprise you, because it represents something these prisoners aren't ordinarily allowed to see: water.
"The prison is only a few yards away from the sea, but they can't look at it," said Thompson. "There are tarps covering all of the fences. Only once, when a hurricane was approaching, did the tarps come down. And they spent those days just looking at the ocean.
"And after the tarps went back up, they started to paint and sculpt ships, boats, ocean, just to recapture the feeling of peace from those days."
The Pentagon has allowed detainees this artistic freedom for years, but in apparent response to the debate over this exhibit, it says the release of new artwork from Guantanamo has been suspended, and that all existing Guantanamo-made art remains the property of the U.S. government.
Of the eight artists with work in the exhibit, four were freed in recent years, but four others are among the 41 men (down from a high of 775) who remain at Guantanamo Bay — men like Ammar al-Baluchi, charged with helping arrange the 9/11 attacks.
His painting titled "Vertigo at Guantanamo," a swirl of color depicts his experience of the brain injury he claims he suffered when he underwent so-called "enhanced interrogation" (like waterboarding) by the CIA.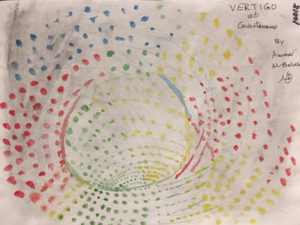 Ammar Al-Baluchi's "Vertigo at Guantanamo." AMMAR AL-BALUCHI
Thompson said, to her, it was the most important work in the show. "It's the most-clear link we have to the mind of someone capable of terrorism," she said.
To judge by the lingering visitors, it's also one of the most popular artworks.
"It's like trying to describe something that no one can understand, especially not in my world," said one student, Xander.
But even with al-Baluchi (who has never formally plead guilty), the link between detainees and terrorism is hazy. Although none has been convicted, none has been declared innocent, either.
"As an advocate who's been working on this issue for years, that's really the question we want people to ask: who are these people at Guantanamo?" said Aliya Hussain, a human rights advocate at the Center for Constitutional Rights, which has worked with two of the released detainee artists.
Neither artist attended the exhibit, and none ever will, because released detainees are barred from traveling to the U.S.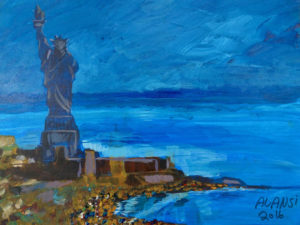 Muhammad Ansi's "Statue of Liberty." MUHAMMAD ANSI
But Hussain believes they do have the freedom to display their work, even sell it … a notion that doesnt; sit well with Maureen Santora: "If it's being offered for sale, there is going to be somebody in this world who is going to buy this. It should not be offered, and it should belong to the United States government."
Dokoupil asked one visitor to the exhibition, Phyllis Rodriguez, "Would you hang one of these pieces in your house?"
"Oh, sure," she replied. "They're done under circumstances that are very dehumanizing, and yet the human spirit comes up."
Rodriguez is also mourning her son, Greg, who died on 9/11. But she says all this art by men suspected of killing him leaves her feeling re-assured. "To me, they give hope, because we all have these things in common," she said.