Gerald W. Lynch Theater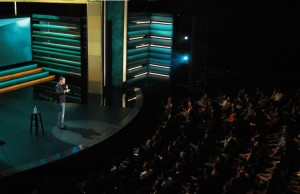 Since opening its doors in 1988, the Gerald W. Lynch Theater has been an invaluable cultural resource for John Jay College and the larger New York City community. The Theater is dedicated to the creation and presentation of performing arts programming of all disciplines with a special focus on how the artistic imagination can shed light on the many perceptions of justice in our society. The Theater is also a member of CUNY Stages, a consortium of 16 performing arts center located on CUNY campuses across New York City.
The Gerald W. Lynch Theater hosts a broad spectrum of events including television events such as Comedy Central Presents, Premium Blend and Live by Request, theater and dance including Alvin Ailey American Dance Theater/Ailey II, Lincoln Center Festival, The Actors Fund and private events including tapings for television and film, conferences and corporate meetings. In addition to maintaining a stock of lighting and sound equipment, direct street access to stage level ensures speedy load-in and load-out of client equipment. Technical and administrative personnel help clients arrive at sensible, cost-effective solutions.
The Theater has hosted events in the Lincoln Center Festival since its first season in 1996, as well as, New York City Opera, Great Performers at Lincoln Center, Gotham Chamber Opera, Metropolitan Opera Guild and Alvin Ailey American Dance Theater/Ailey II. The Theater has also been the site of many television and film specials including A&E's Live by Request, Comedy Central's Premium Blend, Robert Klein in Concert and VH1's Soundtrack Live.
The Mission of the Gerald W. Lynch Theater:
To provide diverse artistic and scholarly events that will educate, entertain and involve our academic and public communities. These events shall resonate with the goals and mission of John Jay College: EDUCATING FOR JUSTICE.
To provide a source of free or low cost cultural and artistic presentations to the John Jay community and the surrounding neighborhood of Clinton.
To provide a venue for John Jay College academic and community events.
For more information, please visit the Gerald W. Lynch Theater Website for more information.