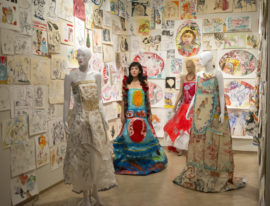 Maria de Los Angeles is a New York City based artist, raised in California, Mexican born, whose imagery focuses on issues of illegal migration, displacement, identity and otherness, working primarily in drawing, painting, installation, performance, fashion, and sculpture.
In the past year Cyriaco Lopes' work has been seen at the Los Angeles Center for Digital Art, the Houston Center for Photography, the Praticas Contemporaneas Kuir in Bogotá, Colombia, and at Atelier 397 in São Paulo, Brazil.
Kyunghee Pyun is an assistant professor in the department of history of art at SUNY Fashion Institute of Technology (FIT). Having written three exhibition catalogs in 2013-2015 on immigrant Asian artists entitled Coloring Time; Shades of Time; and Weaving Time, she is engaged with contemporary art groups in New York.
Bill Pangburn studied fine arts at the Phillips-Universitaet, Marburg an der Lahn, Germany, Tulane University (BA), and Pratt Institute (MFA).