Patricia Eichenbaum Karetzky received her B.A. from New York University; M.A. from Hunter College and Ph.D., from the Institute of Fine Arts, New York University, Patricia Eichenbaum Karetzky is the Oskar Munsterberg Chair of Asian Art at Bard College, New York since 1988 and Adjunct Professor at Lehman College, City College of New York since 1994.
Suechung Koh began her career as a classical pianist with a Master's degree in music from the Manhattan School of Music.
Pierre-Yves Linot is a photographer, member of Soho Photo Gallery in New York and the curator for Historical Memory Project, a human right organization.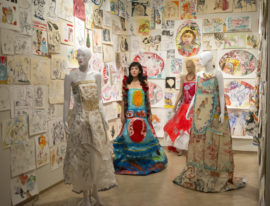 Maria de Los Angeles is a New York City based artist, raised in California, Mexican born, whose imagery focuses on issues of illegal migration, displacement, identity and otherness, working primarily in drawing, painting, installation, performance, fashion, and sculpture.