Aggie Whelan Kenny won an Emmy for her work on the Mitchell-Stans trial (1974) for the CBS Evening News with Walter Cronkite. During her two decades of Supreme Court assignments, she drew the Warren Burger Court, the Rehnquist Court, and recently, the Roberts Court.
Patricia Eichenbaum Karetzky received her B.A. from New York University; M.A. from Hunter College and Ph.D., from the Institute of Fine Arts, New York University, Patricia Eichenbaum Karetzky is the Oskar Munsterberg Chair of Asian Art at Bard College, New York since 1988 and Adjunct Professor at Lehman College, City College of New York since 1994.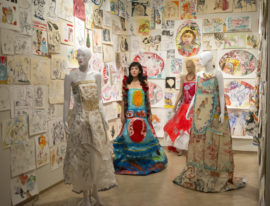 Maria de Los Angeles is a New York City based artist, raised in California, Mexican born, whose imagery focuses on issues of illegal migration, displacement, identity and otherness, working primarily in drawing, painting, installation, performance, fashion, and sculpture.
Estrellita Brodsky is an art historian, curator, and philanthropist. She received her PhD from the Institute of Fine Arts, New York University, concentrating on Latin American Artists in Post-War Paris.