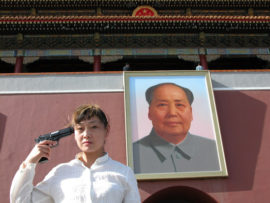 MA Yanling was born in 1966 in Xiangfan in Hubei, she now lives and works in Beijing. She is a performance artist, photographer, filmmaker and painter. MA joined the 1989 democracy protest in her native city and it radically altered her privileged life, leaving her depressed and hopeless, discontented and radicalized.
ZUOXIAO Zuzhou is a music producer who produced and arranged Chinese famous artist Ai Weiwei's first rock album The Divine Comedy. The soundtracks from the album are featured prominently in Ai Weiwei's documentary films.
Lilia Ziamou is intrigued by the possibilities and impossibilities that emerge when existing boundaries are challenged. The confines of the physical body are at the core of her art practice and she has been exploring physical and digital transformations and manipulations.
Helen Zughaib was born in Beirut, Lebanon, living mostly in the Middle East and Europe before coming to the United States to study art.