Helena Trindade's work covers multiple artistic fields including installations, video, photography, drawing, engraving, visual poetry, sound art and site-specific projects.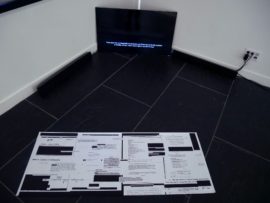 Constanza Alarcón Tennen (Santiago, Chile. 1986) is a multidisciplinary artist. Her work varies between sound installations, videos and sculptures, among others. She graduated from Universidad Católica de Chile (BFA 2009) and from Yale University (MFA 2015). Constanza is a founding member of an Art Collective called Grupo < >, an organization of female artists connected to the Americas. Her
Philip Tsiaras is an International, Greek-American artist who lives and works in New York City.
Panos Tsagaris (b. 1979, Athens, Greece), lives and works in New York and Los Angeles.