aleXsandro Palombo is an Italian multi-media artist who was born in southern Italy in 1973. He attended the fashion and design school, Istituto Marangoni in Milan. For Palombo, fashion is an instrument of cultural and anthropological expression that touches style, art and communication.
I never stopped since my early youth creating art with any material possible.Art for me was a way of life .In parallel , equally important was for me other disciplines ,like Physics ,Mechanics and Engineering .Therefore , i devoted a few years on my Academic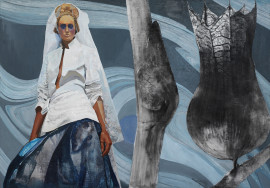 Diploma in Painting with Dimitris Mytaras as her teacher, and engraving at the Athens School of Fine Arts with a scholarship from the State Scholarship Foundation from 1992-97.
Ioanna Pantazopoulou b.1984 in Athens, Greece and currently lives and works in New York. She received both her BFA (2007) and MFA (2009) from Chelsea College of Art and Design, London, U.K. Pantazopoulou is represented in New York by Safe Gallery and Athens by the Ileana Tounta Contemporary Art Center.