WU Yuren, an independent artist, was born in 1971 in Jintan City, Jiangsu Province, now currently lives in Beijing. In 1994 he graduated from the Art Department of Jiangsu Technology Normal Academy, Changzhou, Jiangsu Province.
GAO Yuan, a photographer who works in Taiwan and China, recreated the composition of the Christian icon of Mary and Jesus using homeless migrant workers and their babies who live on the outskirts of Beijing's ring roads.
XU Yong was born in Shanghai 1954 and currently lives in Beijing. He graduated in 1978 from Luoyang Industry Institute, worked at the Producing Department of Beijing Advertisement Company and in 1986 had his first solo photography exhibition and in 1993, he founded the Hutong cultural tour in Beijing.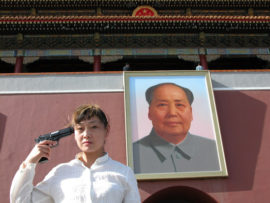 MA Yanling was born in 1966 in Xiangfan in Hubei, she now lives and works in Beijing. She is a performance artist, photographer, filmmaker and painter. MA joined the 1989 democracy protest in her native city and it radically altered her privileged life, leaving her depressed and hopeless, discontented and radicalized.