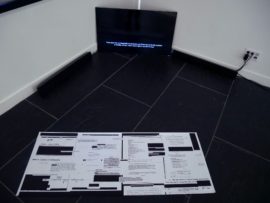 Constanza Alarcón Tennen (Santiago, Chile. 1986) is a multidisciplinary artist. Her work varies between sound installations, videos and sculptures, among others. She graduated from Universidad Católica de Chile (BFA 2009) and from Yale University (MFA 2015). Constanza is a founding member of an Art Collective called Grupo < >, an organization of female artists connected to the Americas. Her Read More »
Philip Tsiaras is an International, Greek-American artist who lives and works in New York City.
Panos Tsagaris (b. 1979, Athens, Greece), lives and works in New York and Los Angeles.
Giorgos Tzinoudis was born in Katerini. He studied Fine Arts in Ioannina, Madrid and New York and he is a recipient of a Fullbright scholarship. He is a painter, a boxer and a writer and roughly every three years he moves to a new place, hoping to find who can pay the bill for that Read More »